Many a times when you hear the word responsive website design, you will wonder what it is all about. A responsive website is a website that adapts itself to fit into any screen no matter the size. Meaning, your website will adapt to fit the screen in which it is being viewed from. It negates the need to pinch or scroll horizontally and overall provides your visitors with a great user experience while on your site.
Statistic shows that Internet allows people to have access to information more than ever before. But, people are no longer just searching the web on a desktop – they are now using laptops, smartphones, tablets, and even smart TVs. That simply implies that your website will be viewed from different screen sizes mediums and therefore you need to ensure that the design is responsive.
Now, just before you conclude that there is no point having a responsive website design, take a good look at some of the stats revolving around the importance of implementing a responsive design below.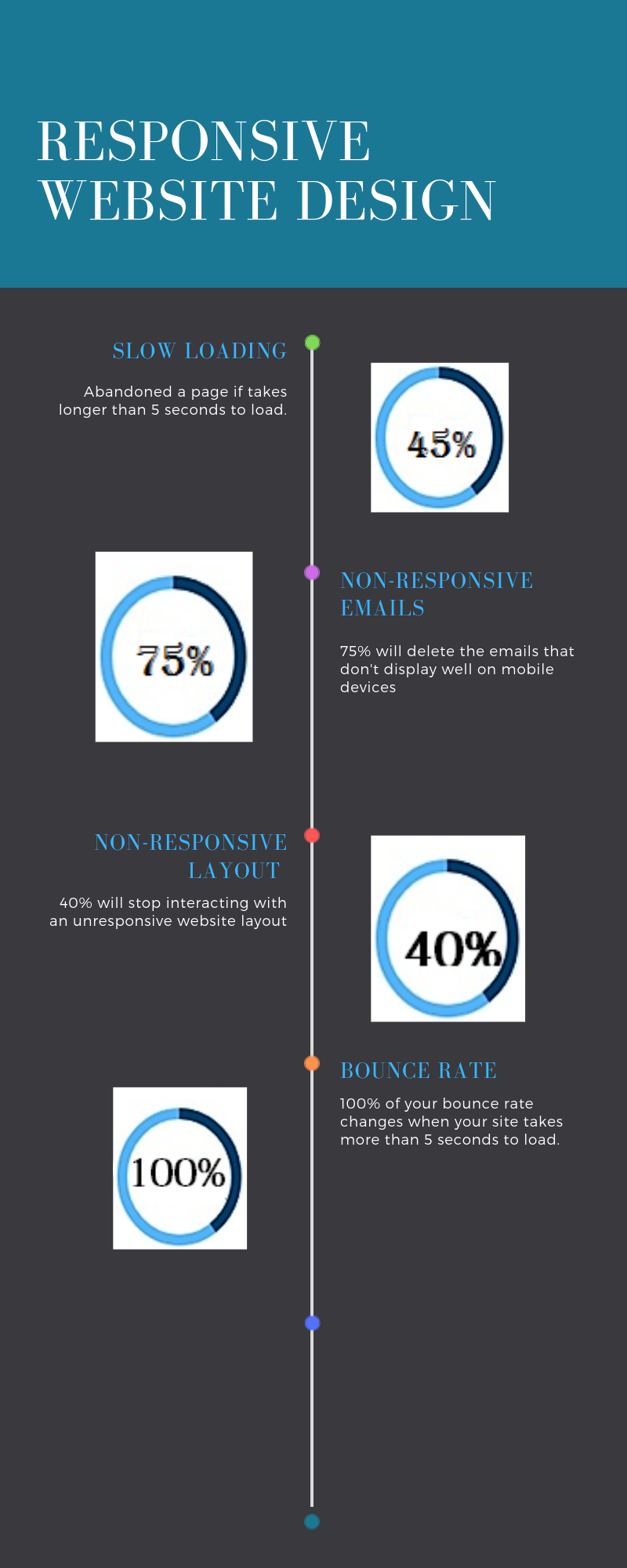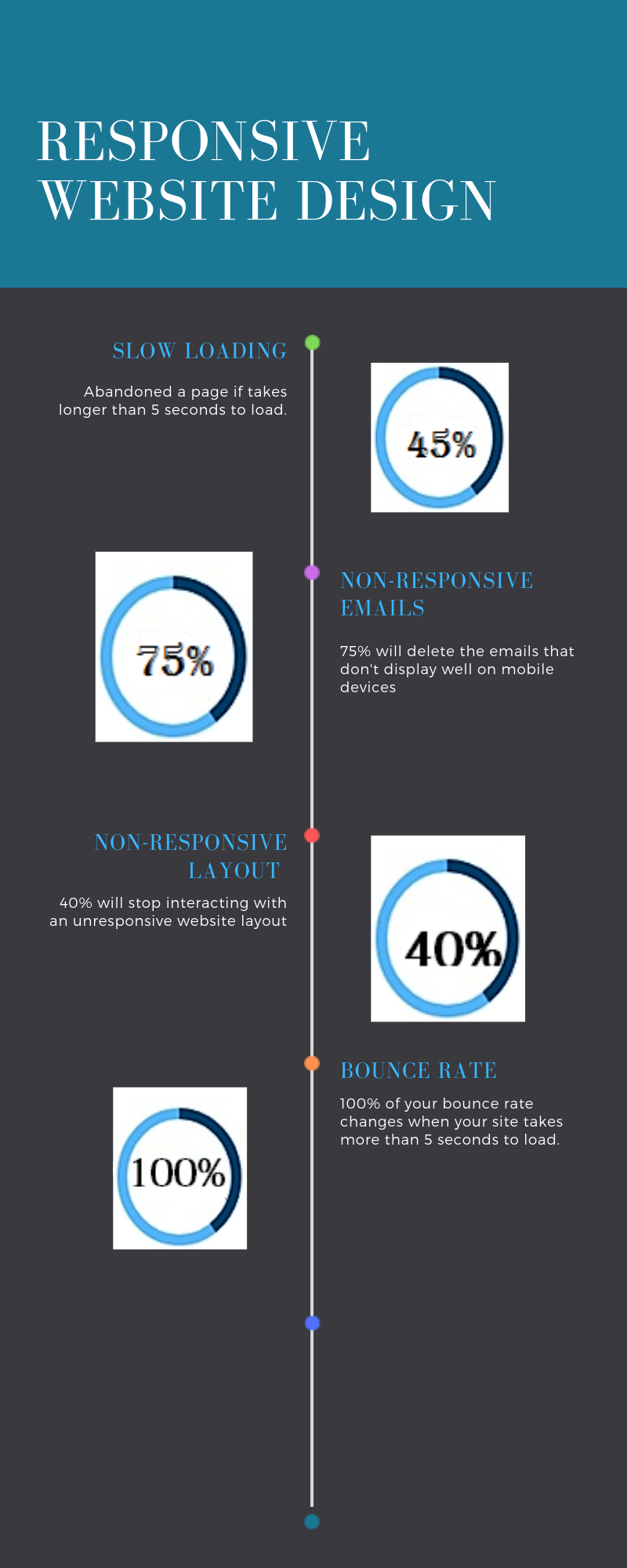 Disadvantage of non-responsive website
In today's world people are always on fast lane, no one wants to interact with a slow website at all. No one will interact with your website if it's not loading fast, appealing and mobile friendly, no matter how big your company is. The stat in the diagram below shows that 45% of your website users will abandon your site if it takes longer than 5 seconds to load and 70% will immediately delete your emails if it doesn't look great on mobile device. And about 40% of your clients will stop engaging with your site if the site is not well structure. Another disadvantage of non-responsive website is that, it makes your site fall out of Google ranking.
Google as a search engine rolled out an algorithm that actually prioritized responsive sites, so sites that's not mobile-friendly are being ranked lower than those who are responsive and mobile-friendly. The more mobile friendly your site is, the better your ranking on Google is.
So, with these you can see how not having a responsive website design can lead to losing visitors and ultimately decrease conversions on your site. The responsiveness of your web design is a number one factor in determining how credible your business is.
Advantage of having a responsive website
The benefits of having a responsive website cannot be over emphasizing. According to Statista website 61.2% of the global internet users in 2018 are mobile users, and this is expected to rise to 63.4% by 2019. While in Nigeria in 2018 alone, 84.3 Million internet users are on mobile and this is expected to sky rock to 93 million mobile internet users by 2019. Meanwhile, 45% of these mobile internet users are between ages 18-29, this means the younger generations are accessing your information with their smartphones daily. So, your new responsive website will be tapping into the market of the younger generations while also providing better conversion rates.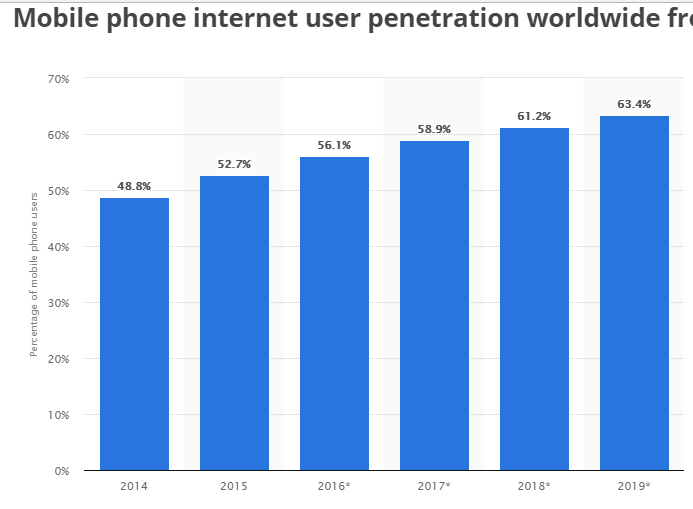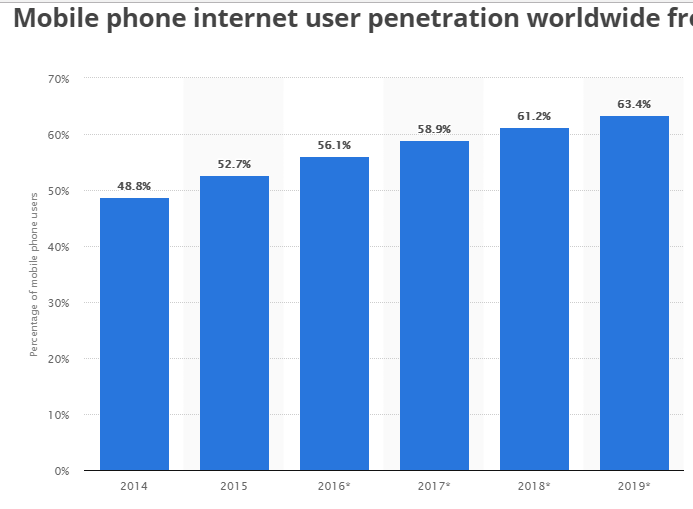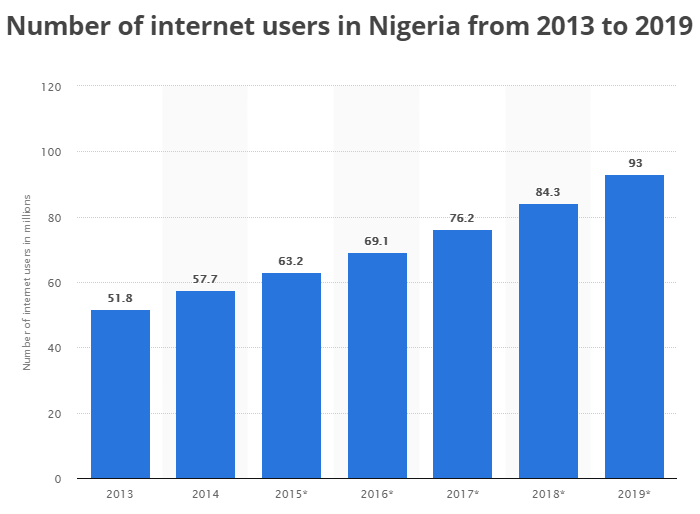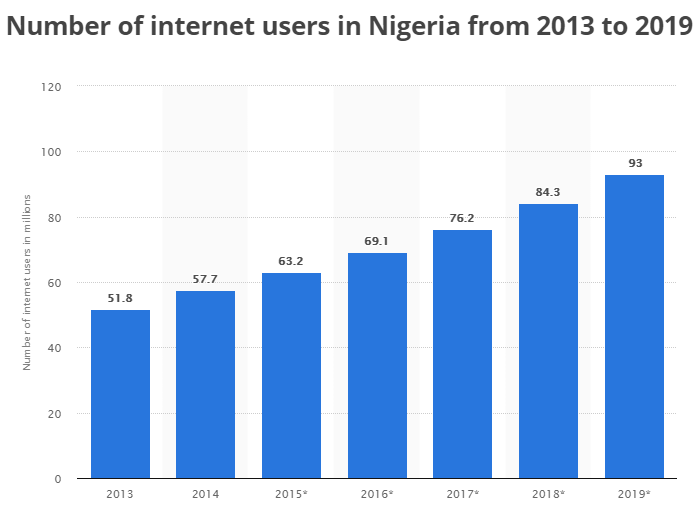 If you are running an e-commerce website and your site is not responsive enough, then your competitors are taking advantage of you. A responsive website design can be the only thing your business need to boom. Studies show that four out of five online shoppers used their smartphones and 70% of these online shoppers are more likely to buy from mobile-friendly sites. Which means if your e-commerce website is not mobile-friendly, you are just occupying an internet space; there is tendency that no one will come back to your site after the first visit.  Responsive website design is a fundamental aspect of any online presence because it increased SEO and User Experience.
To find out if your site is mobile friendly you can use Google's official testing tool by clicking here. You can also check how responsive your site is by clicking here
The Conclusion
Not having a responsive website can cause some serious damage to your business or brand. Clients visiting a site with slow load times can be turned away and the interface of your website needs to be user friendly so that your visitors won't have to look somewhere else. Therefore, re-designing your website to be responsive will increased conversion rate, rank your site well on search engines and provide an overall better User Experience.